The Season for Non-violence
I learned about A Season for Non-Violence from James Twyman's recent announcement of his 64 Days of Peace Concert Tour.
Here's a little more about it from his site…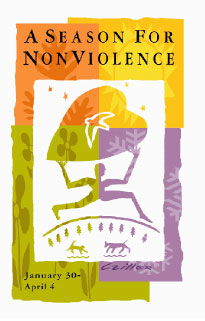 A Season for Nonviolence, January 30 – April 4, is a 64-day worldwide educational, media, and grassroots campaign dedicated to demonstrating that nonviolence is a powerful way to heal, transform, and empower our lives and our communities.
Inspired by the 50th and 30th memorial anniversaries of Mahatma Gandhi and Dr. Martin Luther King, Jr., this international event was created by the Association for Global New Thought (www.agnt.org) and honors their vision for an empowered, nonviolent world.
Throughout the 64-day campaign, events and activities for peace and nonviolence take place all around the world, highlighting existing peace building initiatives and inspiring new year-round activities for a more peaceful, nonviolent just and sustainable world.
For more information about AGNT or A Season for Non-Violence, please visit: