Food Bandits Found!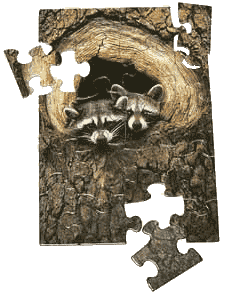 Vielen dank Martina! …for locating the elusive midnight raiders, who appear to be making extra money posing for puzzle card letters for tourists. Although they were found, they were not very remorseful about their actions. They did however, express their appreciation for the goodies and even requested more sent to their address:
Fam. Racoon
Hole-in-the-Tree Nr. 1
Somewhere in the Woods
United States
Sadly, I was not able to locate the appropriate postal code to ensure proper delivery, so they will probably have to pilfer from the next camp visitor if they want cookies and chocolate.